Continue to CustomInk.com to order T-Shirts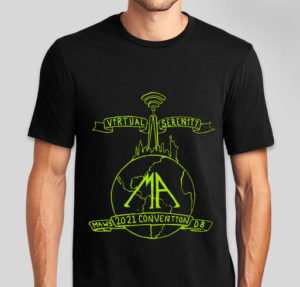 The MAWS Convention 2021 "Virtual Serenity" t-shirt* commemorates the truly wild year(s) we just spent as a fellowship finding serenity over the internet… but ALSO helps to ensure that the 2022 Convention Committee has all the funds they need to throw us an INCREDIBLE in-person convention.
Every single dollar after cost will be sent by MA District 8's committee to the 2022 Convention Committee.
So please consider supporting your fellowship's convention campaigns in the swankiest way imaginable – by adding this incredible piece of MAWS Convention memorabilia to your wardrobe or treasure box 🙂
*We hope to add more color variations. If you want to change your order down the line, please feel free to reach out and we will make sure to accommodate your request.